Topic: Don't pass on the Jets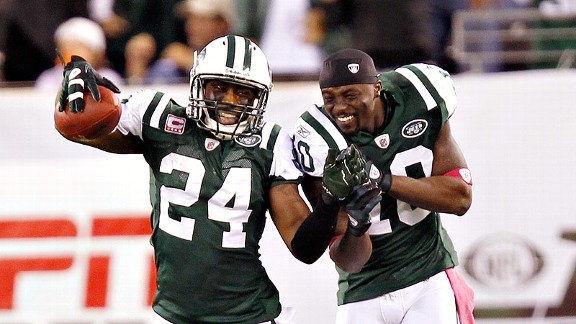 Trent Dilfer
If you took the first seven weeks of the NFL season as a measuring device on where your team really stands in the overall picture, it'd be hard to blame New York Jets fans for not knowing where to line up the needle.
At 4-3, they've been fortunate to pull off a pair of key wins -- one over Dallas, the other on Sunday against San Diego -- and a three-game losing stretch seemed to re-emphasize many of the worst fears that this team was actually regressing. Is the defense losing its steam? Is QB Mark Sanchez not improving? Is coach Rex Ryan's bravado hollow?
But with the win over San Diego, in a game that for a while seemed lost, the Jets reminded once again why they can be a terrifying team to face if they can get into the playoffs.
This is a league dominated by great quarterbacking. And the teams that have reached the Super Bowl in recent years prove that point. But while the Jets aren't yet great, they can, more than any team right now, take down great quarterbacks. And their ability to do that, through a mix of great scheming and significant talent, makes them a contender. The win over the Chargers told the story once again.
Any NFL quarterback will tell you there are two things that can truly throw you off your game.
One is when a team is simply hitting you quickly. That's easy -- if you're getting hit you don't have time to react; you can't make good decisions.
The second has to do with preparation and how it can be ruined. As quarterbacks without a perfect simulation of what we'll face each week, we prepare for looks we have to assume will be there. We build a plan to create those looks. We try to build a set of logical assumptions. When those looks don't exist, or you're seeing a warped version of the play you have envisioned and had prepared to execute, it can look like a kaleidoscope. You don't know where to focus. It changes the picture in your head.
That's because there is a design not just of where the play is supposed to go, but of the progressions you take when initial options are taken away. There's always an out. The Jets are pretty good at the first part -- they have 18 sacks, good for third in the league. But they are truly masters at the second part, the ability to confound and confuse even the best of quarterbacks.
Here are some things they do, and how they showed it again on Sunday.
They take away your starting point:
When San Diego visited New England in Week 2, the Chargers didn't get a win, but they did a number on the Patriots' defense, rolling up 470 yards, 378 of them through the air. And if you watch the tape, you'll see that WR Vincent Jackson simply destroyed New England when he lined up inside. The Chargers preyed on the misconception that their big, deep target was going to be utilized on big plays, lining up on the edge. Instead, they lined Jackson up inside, causing confusion with secondary matchups. The result was a monster day -- 10 catches for 172 yards and two TDs.
In New York, it was clear the Chargers expected to utilize Jackson in this way again. Instead, what they found was a clever scheme that saw the Jets bringing safeties Eric Smith and Jim Leonhard up, and essentially bracketing the coverage on Jackson with a mix of defenders -- even in the slot.
While QB Philip Rivers may have seen his big target on a smaller defender, he became immediately confused after the snap, and was consistently forced to give up on Jackson early. Even if his initial target got open later, Rivers is a good quarterback and was already moving to what he assumed were better options. Jackson finished with just one catch, and 15 yards. Great quarterbacks always have a starting point, but the Jets can make you feel not like you've entered a maze. It can create total disorientation.
They distort your options:
When Tom Brady and the Patriots lost to the Jets in the playoffs last year, Brady looked back at the tapes and had his frustration grow. But it wasn't because of all the throws he missed to well-covered receivers -- it was because of all the throws he didn't even make to wide open receivers he never saw.
During the San Diego game, a look at the film again tells this story. The Jets didn't cover everybody. In fact, while Gates finished with five catches and 54 yards, he could have had a lot more. The Jets actually left him open a lot.
But don't simply blame Rivers for missing an open man. Because the Jets cleverly disguise coverages, they often draw throws to a player the quarterback thinks is open but really isn't. In one case, Rivers believes Jackson will be open because he's matched up with the smaller Leonhard. It looks like a zone. But instead, cornerback Kyle Wilson is assigned to simply bracket Jackson underneath any time he crosses the middle of the field. Rivers ends up throwing to what should be an open route, but it's instead undercut by Wilson for an interception. The Jets will often leave a player open, but they play the odds. An open receiver doesn't mean anything if the quarterback gave up on the route early. You can only see, and assume, so much.
They are clever with their Island:
There's a misconception that Darrelle Revis simply takes away one guy. You assume your best wideout will draw him all day, all over the field, and you'll work to another target. But again, like the case with Jackson, the Jets won't simply use Revis to stop one man. Not only will he move around pre-snap, but they may line Revis up on one player, and allow him to drift to another area by giving him the necessary help.
The result is that what a quarterback assumes is a covered target ends up as an open one. The mere threat of Revis eliminates an option before the ball is snapped. You end up seeing things like what happened on Sunday, when Revis made a game-changing interception. Jackson had cut inside and Revis, dropping off his own route, was there to pick off a ball thrown slightly behind Jackson.
They clutter your brain:
When an offense can do a lot of things out of a single look, we call them multiple. The Jets can do the same thing to a quarterback in coverage. They'll give you five or six different looks, and instead of assuming your offensive formations can create deception, the defense is instead dictating terms to you. When you go into plays unable to gather any sense of what target will come free, you get desperate -- you assume you'll have to take a hit, or scramble, or simply skip your usual progressions.
There are ways to plan against all of this. You do your best to get Revis as far away from your intended target as possible, such as the way the Patriots fed the ball to Deion Branch, who led them in catches in that Week 5 win. You can try to get Antonio Cromartie on his own island. You can try to forget not who you are throwing it to, but who you are throwing it against. If you see a linebacker or smaller safety on a target you like, you can change your progressions and look to that target first.
But as the Jets have proven as the season wears on, and they begin to get the communication down in the secondary -- something I've said before might be the last thing to truly come around in this post-lockout season -- even the great quarterbacks should start to recognize again that this is a team you don't want to face if throwing is at a premium. It's why simply being able to run the ball could be bigger than ever. Ask New England, which threw the ball pretty well against the Jets, but got a huge bump from a 73-yard Wes Welker catch and were able to win because they were stubborn with the run late.
There's nothing confusing about a coverage when all you have to execute is a handoff. But facing the Jets often requires more, and things can be a lot more difficult. Recent playoff victims like Peyton Manning and Tom Brady will tell you the same.
http://insider.espn.go.com/nfl/story/_/ … l-playoffs
Last edited by Ed Hochuli's Biceps (2011-10-29 20:03:51)
"Nobody in football should be called a genius. A genius is a guy like Norman Einstein."
-Joe Theismann